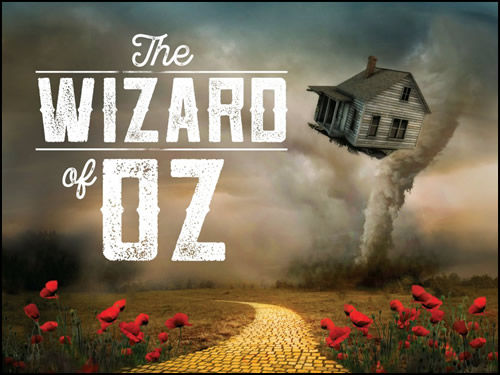 Brian was given a wonderful gift for the 2017 holiday season: He was asked to click his heels and head back to his alma mater, Syracuse University, to reprise one of his favorite roles: "The Cowardly Lion" in Syracuse Stage's THE WIZARD OF OZ!
Directed by Donna Drake, Syracuse Stage and the Syracuse University Department of Drama teamed up with New York City's 2 Ring Circus to create a dazzlingly acrobatic take on everyone's favorite, truly American fairy tale! The cirque-like feats of 2 Ring Circus made it an Oz, and a holiday family treat, never seen before!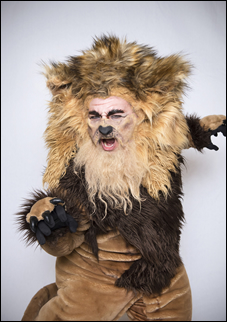 At the time of casting, there was no word as to whether or not Brian would be a part of any of the aerial shenanigans. Happily, he kept all 4 paws on the ground while Glinda descended via lira, the Crows performed a triple trapeze act, the Emerald City Gatekeeper performed an incredible hula hoop act, the Flying Monkeys attacked via silk drops, and the Poppies performed a stunning, synchronized Spanish web duo!
Follow the yellow brick...no...that's not right....follow this link to the Sights Page for some pix of Brian's 3rd adventure in Oz and then check out Reviews befitting the King of the Forest!
It's been said that you can't go home but, actually, there's no place like it! (Go, Orange!)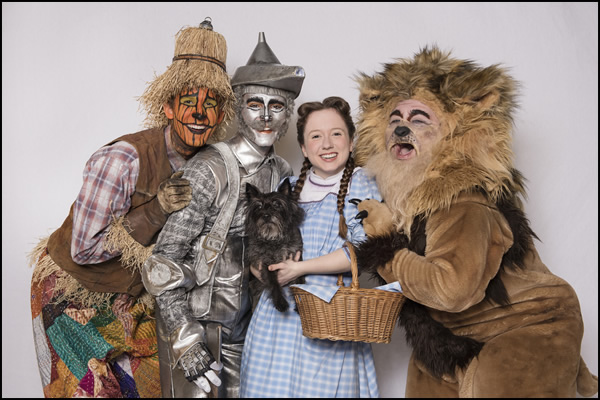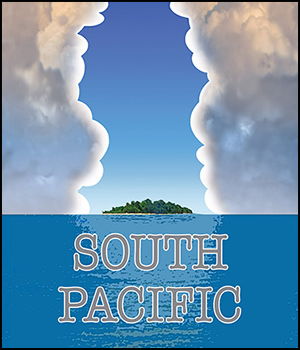 Brian has just returned from an incredible island getaway....in Greensboro, North Carolina. He's finally adding one of the best comedic roles in classical musical theatre to his resume: "Luther Billis!"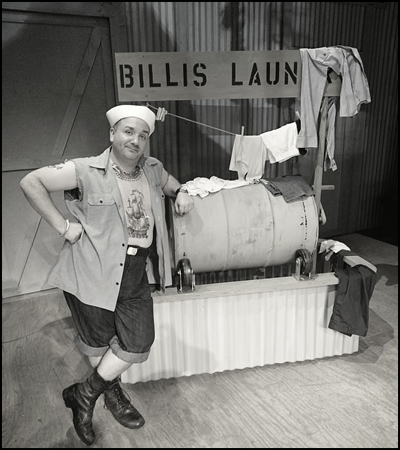 Triad Stage, in partnership with UNC Greensboro, brought to life one of Broadway's most iconic musicals, SOUTH PACIFIC. The stunning production broke all box office records for the theatre and proudly honored American service men and women for their contributions to our country and community before each performance! Brian personally dedicated his performance to his grandparents, Private First Class/WAC Alice Hoffman and Staff Sergeant Sidney Hoffman, who met while serving in WWII.
As the entrepreneurial Seabee "Luther Billis," Brian "captured the audience with his blunt humor and dramatic stage presence" all while wearing very little clothing. (Hey....it's hot in the South Pacific!)
From the pent-up masculinity of "There is Nothing Like a Dame" to his darkly comedic take on "Bali Ha'i," selling Lt. Joseph Cable on the idea of a "pleasure" cruise, and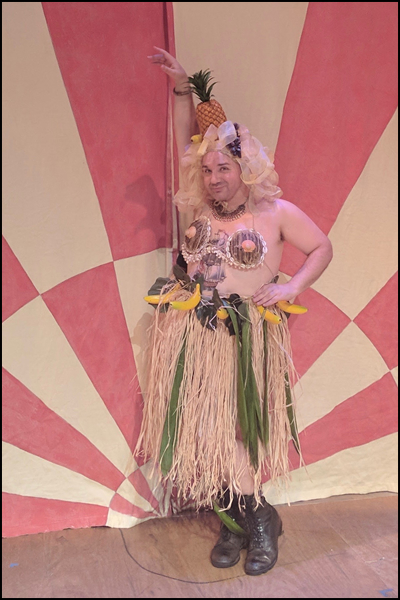 the vaudevillian "Honey Bun" (complete with grass-skirt, coconut bra, and suggestively placed bananas, of course!), Brian earned rave Reviews with his fast-talking, wheeling and dealing used car salesman spin on the classic comedic role.
Take a trip over to the Sights page for a look at all that went into becoming "Billis:" earrings and tattoos and bling....oh, my!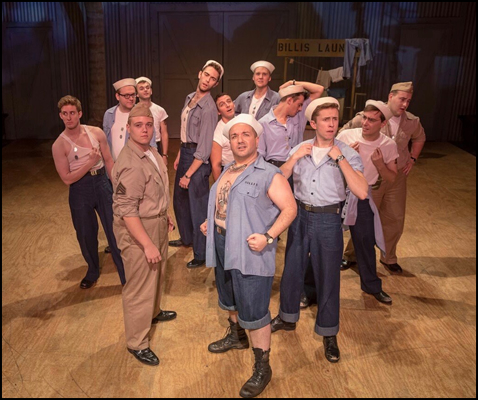 Brian recently sat down in the studio with The Ensemblist's Mo Brady and Nikka Graff Lanzarone to chat a bit about his parallel careers as actor and self-proclaimed "dog-boy" in the Broadway Community.
Brian and Nikka met during the Off-Broadway Revival of SEUSSICAL and it was lovely to reconnect! Incidently, Brian was not working with an animal on that production but actually playing one. He was "Horton the Elephant" to Nikka's sassy "Bird Girl."
Episode #96 of the long-running podcast features some great stories about how Brian first met and started working with Bill Berloni, how he balances visits to "Sesame Street," the Warbucks Mansion, Harvard Law, and the Winn-Dixie and how he's been fortunate to make wonderful relationships throughout the theatrical community while working on both sides of the footlights on Broadway's LADY DAY AT EMERSON'S BAR AND GRILL, LEGALLY BLONDE, THE ROYAL FAMILY and BULLETS OVER BROADWAY.
Brian is truly honored to have been included in the incredible line-up of artists to grace the airwaves! Check out his incredibly well-behaved episode on iTunes!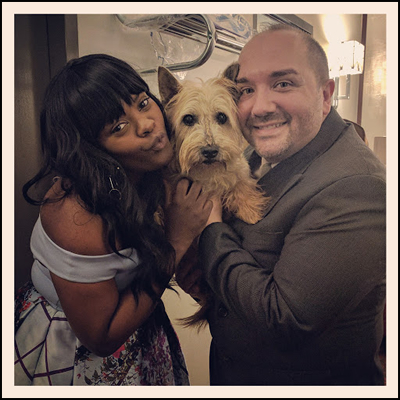 Brian made his symphonic debut with the Hartford Symphony Orchestra and their original program "Playing With Dogs" playing the put-upon, frazzled "Stage Manager" of the evening. The conceit was that despite chaos backstage, he kept the show running smoothly onstage...until the maestro's baton went missing....as well as the entire score for Act 2! So....shenanigans and physical comedy galore! All of this while being reunited with his dear friend Shanice Williams, "Dorothy" from NBC's THE WIZ LIVE!
Conducted by HSO Assistant Conductor Adam Boyles and hosted by radio personality Renee DiNino, with Creative Direction by legendary Broadway animal trainer Bill Berloni, the HSO brought together music and mutts as never seen before.
On-stage action antics included appearances by some of William Berloni Theatrical Animals'  incredible canine performers Sunny ("Sandy"), Nessa ("Toto"), Chico ("Bruiser Woods"), and Bowdie ("Winn-Dixie") as Bill guided the audience thru the creation of some of his most iconic canine co-star creations including ANNIE, THE WIZARD OF OZ, LEGALLY BLONDE, and the soon-to-be classic BECAUSE OF WINN-DIXIE! There were also agility and freestyle demonstrations, filmed sequences, friends from the Connecticut Humane Society sharing heartwarming stories of our unique bond with pups, the incredible story of Sgt. Stubby (a stray mutt from New Haven, CT, who was recruited by the Army, participated in 17 WWI battles, saved countless lives and met three U.S. Presidents), a special appearance by the Fidelco Guide Dog Foundation (an incredible organization committed to partnering men and women who are blind with their elite breed of German Shepherd Guide Dogs), and UConn's Jonathan the Husky...all set to music inspired by our very special love of dogs! 
It was a wonderful night and one that we hope will be brought back for an encore...maybe even to a Symphony stage near you!


Brian has just returned from Alabama Shakespeare Festival and the next step in the BECAUSE OF WINN-DIXIE adventure, reprising his role of "Jiggs Thomas," the (never-gonna-get-the-keys-to-the-store) Acting Manager of the Winn-Dixie grocery store where this incredible story of friendship, love, healing and acceptance kicks off!
With Tony Award-winning Director John Rando (URINETOWN, A CHRISTMAS STORY) and Animal Director William Berloni (ANNIE, LEGALLY BLONDE, THE CRUCIBLE, PETER PAN LIVE, THE WIZ LIVE) at the helm, Book and Lyrics by Nell Benjamin (LEGALLY BLONDE), Music by Duncan Sheik (SPRING AWAKENING, AMERICAN PSYCHO) and Choreography by Chris Bailey, BECAUSE OF WINN-DIXIE has a dream team and it's just about time to release this hound!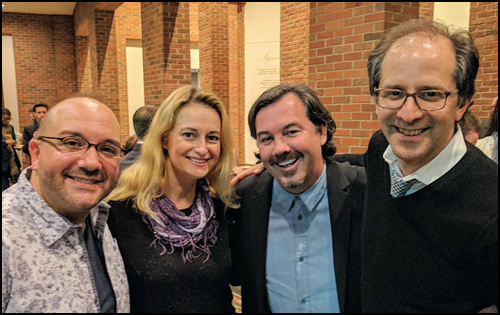 Returning from the 2015 Delaware Theatre Company production, Bowdie (now a new character on "Sesame Street" and fresh off a critically acclaimed performance on HBO's "High Maintenance"), Brian, Carolyn Mignini and Leonay Shepherd were joined by a few other powerhouses: Gabriella Pizzolo (FUN HOME, MATILDA, Encore's SUNDAY IN THE PARK WITH GEORGE), Roz Ryan (CHICAGO, Disney's "Hercules"), Joe Carroll (CINDERELLA, THE BANDSTAND), Kacie Sheik (HAIR) and Sawyer Nunes (MATILDA, FINDING NEVERLAND).
One Montgomery reviewer went so far as to say of the show:
"(BECAUSE OF WINN-DIXIE) is a delight not because it features an incredibly cute dog or a superb cast (although it features both), but because it manages to take a story that could have been easily adapted into something puerile and simplistic and instead gives it great depth and feeling.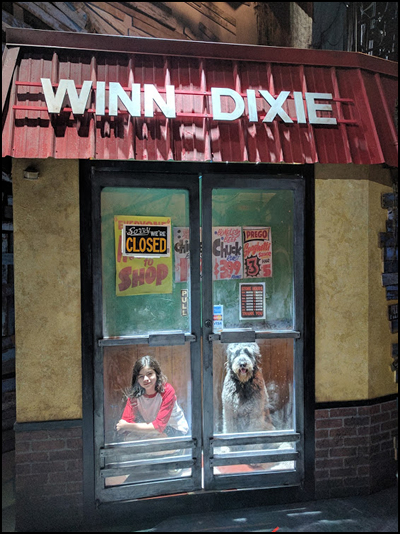 The songs are not just catchy tunes, but heartfelt expositions that slowly reveal more and more about the lives and personalities of the characters until ultimately it transforms them from what appeared to be simple stereotypes into sad, loving, complex and very real people that we feel we know.
Along the way we begin to understand that the dog, Winn Dixie, is not just one of the musical's stars, but its metaphor. As Opal dispenses love and understanding on Winn Dixie, we see the once-shunned dog, who was considered a menace, isn't bad at all, just abandoned and unloved.
This is a powerful, touching musical that makes us believe in and care about its characters. It's a musical that isn't preachy as it deals with difficult issues of faith and ultimately leaves us feeling spiritually uplifted. It's a children's story that will be just as loved by adults. It's a musical that deserves to be a Broadway hit."
So, let's keep our paws crossed! This could be the first WINN-DIXIE to open in NYC! This puppy's ready to run!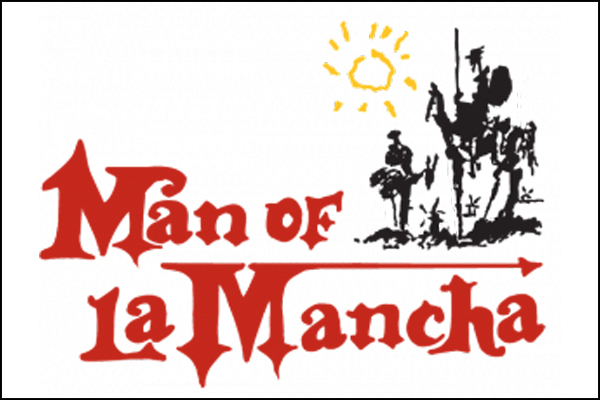 Having been drawn to "Sancho"s eternal optimism for as long as he can remember, Brian is finally checking the dream role off of his "Bucket List" at Connecticut's Ivoryton Playhouse as ever-faithful squire to Broadway and The Metropolitan Opera's David Pittsinger's "Don Quixote!"
One of the most enduring works of musical theater, MAN OF LA MANCHA tells the story of the "mad" knight, Don Quixote, as a musical play within a play. It is performed by Don Miguel de Cervantes and his faithful Manservant, Sancho, as they await a hearing with the Spanish Inquisition.
Sancho vows to "follow (his) Master till the end" and he and Quixote certainly have their fair share of misadventures: from prison to La Mancha, donkey riding to windmill chasing, and squaring off against kitchen maids and muleteers!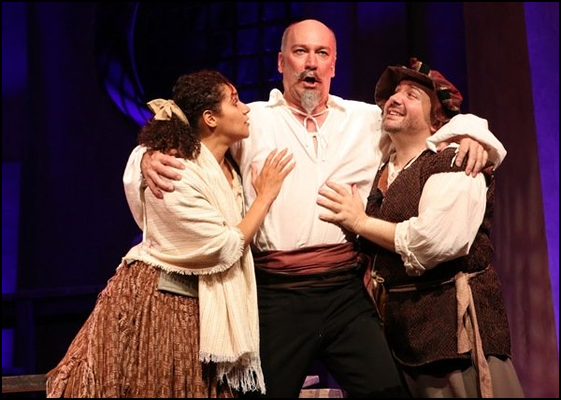 Under the watchful eye of director David Edwards, the quest to revive chivalry, undo wrongs, and bring justice to the world has been documented for the ages and you can follow along over on the Sights page!
Sally forth to the Reviews Page to see all the wonderfully kind words that just keep coming in as our "impossible dream" becomes a reality!
Sally forth to the Reviews Page to see all the wonderfully kind words that just keep coming in as our "impossible dream" becomes a reality or see and hear just how much he "really like(s) him" in this clip from the production!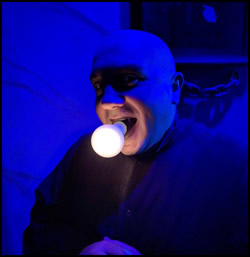 Brian's summer got pretty "creepy" and "kooky" as he electrified the Forestburgh Playhouse stage as everyone's favorite uncle: Fester!
Forestburgh Playhouse is nicknamed "The Miracle of the Forest" and THE ADDAMS FAMILY, devilishly directed by newly named Artistic Director of the Cape Playhouse, Michael Rader, fit perfectly into this magical little theater in the Catskills! It was thrilling to hear the audience cheer as the curtain rose every night and they got their first glimpse of the weird and wonderful family brought delightfully to life!
It was wonderful to spend some time with a character whose primary objective, surprisingly enough, is love! And to know that we were making people laugh uncontrollably at a time when the world needs a bit more love and laughter was truly an unexpected gift!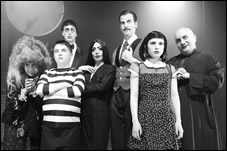 Oh...and things to file under "You Know You've Made It When:" getting hate mail sent to the theater about a truly golden, ridiculously timely political joke and 2 rather hirsute gentlemen in the second row screaming out "WE LOVE YOU, FESTER!" after "The Moon and Me," all but throwing their panties your way!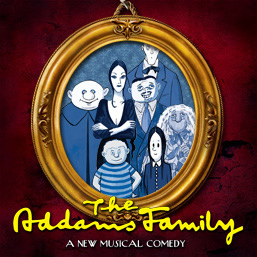 Definite firsts!
But we digress.
Our lunatic musical knocked 'em dead with its devilishly enchanting score and garish costumes. Check out some ghoulish memories over on the Sights page and Reviews to die for!
Come meet the family! We'll leave the lights off for you.

If you caught him on the THE MAKING OF PETER PAN LIVE for NBC, you'll be happy to know that Brian continues his reality tv presence during what the Discovery Family Channel is re-naming "Pawgust" on their new show FROM WAGS TO RICHES WITH BILL BERLONI!

As Bill's "right-paw" man, Brian is featured in episode #2 ("Bad Chico") during the creation of Delaware Theatre Company's production of BECAUSE OF WINN-DIXIE and in episode #3 ("Donkey Day!"), assisting Bill on the set of the "Worse Things Than Love" video shoot for up-and-coming pop duo, Timeflies. The video is great! You can watch it here!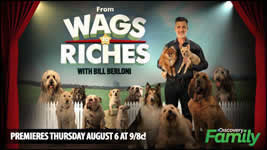 Episodes of FROM WAGS TO RICHES are available on Amazon and iTunes so catch up before you get left in the dog house!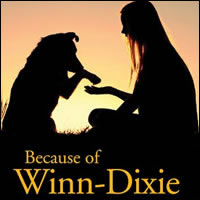 Brian seems to be making a career of proving Mr. Fields wrong:
A musical with kids and animals? Bring it on.
Brian is thrilled to reunite with his Off-Broadway SEUSSICAL Revival director, Tony Nominee Marcia Milgrom Dodge, long-time friend and collaborator, Tony Honoree Bill Berloni and, of course, his furry friend from NBC's PETER PAN LIVE, Bowdie (the scene and review-stealing "Nana!") on BECAUSE OF WINN-DIXIE, the new musical by Tony & Grammy Award winner Duncan Sheik and Olivier & Outer Critics Award winner Nell Benjamin! I think Mr. Fields would change his mind if presented with this dream team!
The Delaware Theatre Company is billing the show as "A new Broadway-bound musical based on the award-winning children's novel by Kate DeCamillo, BECAUSE OF WINN-DIXIE is poised to become the first Broadway musical starring a live dog as the main character! A gentle, warm and enthralling story about the intimate friendship between a young girl and her dog, WINN-DIXIE shows how the smallest act of kindness can ripple into a celebration of community."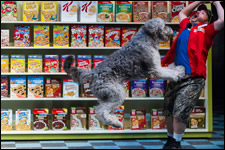 Brian plays "Jiggs Thomas," the Manager of the local Winn-Dixie where the story begins. Take a behind-the-scenes look at the exciting "Man vs Dog Ballet" that Marcia, Bill and Brian have created over on the Sights Page....it's fantastically chaotic! As character study, Brian's been watching a lot of Larry, the Cable Guy and Duck Dynasty...so...there's that.
Check out Broadway World's feature, announcing the start of rehearsals and for those of you in the NY, NJ, Delaware-ea, stop by my Winn-Dixie when you're in Wilmington: I promise it will be anything but your average trip to the grocery store!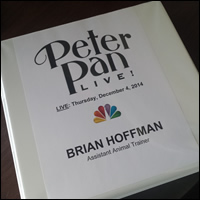 Brian Fun Fact:
He's never waited tables or temped in an office in New York!
While most actors turn to these go-to "day jobs" between acting gigs, Brian has been happily working with Tony Honoree Bill Berloni and his incredible Theatrical Animals since 1999. While waiting for the next "Horton" or "Seymour," Brian often doubles down as actor and "dog-boy" (his own affectionate self-title) for shows like ANNIE, LEGALLY BLONDE, THE WIZARD OF OZ, etc... Four Broadway shows later (LEGALLY BLONDE, THE ROYAL FAMILY, BULLETS OVER BROADWAY and LADY DAY...), he now adds 2 new categories to his resume: "Major Motion Picture" and "Live Television Event."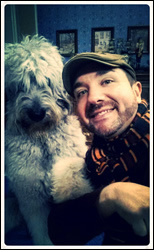 Word on the street is that our pup Bowdie walked away (on four legs!) with NBC's Fall 2104 broadcast of PETER PAN LIVE! as the Darling's trusty canine nursemaid, "Nana."
Well, now that the pixie dust has settled, Brian can finally reveal that he was a part of that magic, working with famed Theatrical Animal trainer Bill Berloni, on this newly filmed version of the classic J. M. Barrie tale!
Check out this great featurette for a bit of how we did what we did with Christian Borle, Kelli O'Hara, Allison Williams, Christopher Walken, Minnie Driver, the Darlings, a few Lost Boys, some Pirates, Islanders...ah, and a Croc (not trained by Bill Berloni!)!
The 2014 holiday season also saw the theatrical release of the newest incarnation of everyone's favorite little orphan, Annie. This time, however, in a completely modern "foster kid" retelling of the plucky classic musical!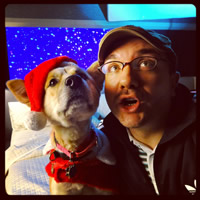 Rescue pup Marti was the perfect new "Sandy" to star alongside Oscar nominee Quvenzhané Wallis, Jaime Foxx, Cameron Diaz, Rose Byrne and Bobby Canavale. And any job that reunites Brian with his fellow Baltimore School for the Arts grad Tracie Thoms is never truly work!
Shooting this incredibly New York story on the streets of New York was almost magical: everyone knows ANNIE. Everyone knows "Tomorrow." To walk on set with "Sandy," whether on location in Chinatown or the 47th floor of the new 4 World Trade Center or to ride in the back of a NY Police car during a high-speed chase across the George Washington Bridge while being pursued by helicopters was truly a thrill!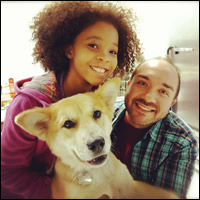 If you look closely, you can see Brian just behind Jamie, Rose and Bobby in the Animal Care and Control Center scene as Annie adopts Sandy!
Another fun fact: The pup Brian is working with in the scene is Oliver, one of Bill Berloni's "Sandy"s for the stage version of ANNIE!
One holiday season, two great new interpretations of classics!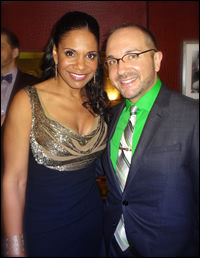 "Oh, the places you'll go" is one of Dr. Seuss' (other) best-selling books and, as you know, the philosophies and stories of Dr Seuss have always been good to Brian…so we'll trust this one, too!
Returning to NYC after a wonderful summer in Missouri playing "Seymour" (LITTLE SHOP OF HORRORS) and "Patsy"(SPAMALOT), Brian can now add a brand-new position to his resume: Broadway Stage Manager!
LADY DAY AT EMERSON'S BAR & GRILL marks Brian's 4th Broadway show after LEGALLY BLONDE, THE ROYAL FAMILY and BULLETS OVER BROADWAY.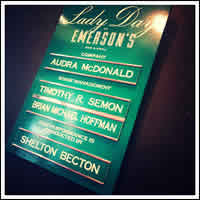 The team at Circle in the Square has combined the "dog-handler" track with an Assistant Stage Manager position so now thru the end of the run, Brian can be found handing 6 time Tony Award winner Audra McDonald a sweet little chihuahua or calling cues during her spell-binding rendition of "God Bless the Child."
As many of you also know, Brian has always been one to say "yes" to opportunities as they come...and look where that's happily gotten him!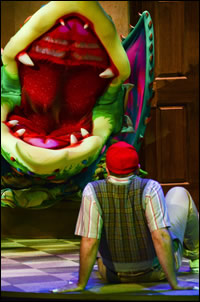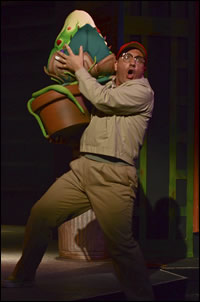 Well, a dream role has become a reality! Brian just returned from Skid Row, and can now check "Seymour Krelborn" off of his musical theater bucket list!
LITTLE SHOP OF HORRORS at the Arrow Rock Lyceum Theatre was a huge success and a thrill ride for Brian! He got the girl, wielded a machete, fired a gun, sang the best pop musical theater power duet and played around some awesome plants, courtesy of Monkey Boy Productions!
"Come-uh, come-uh, come-uh" check out some great productions shots and video clips on the Sights page or spend some time on Skid Row via the YouTube playlist!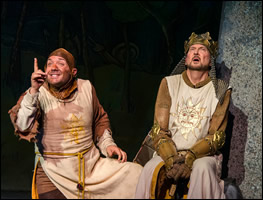 It's always exciting when a performer gets a chance to spend some time with material that really resonates with him or her.
That chance came this summer as Brian threw on a leather cowl, grabbed a pair of coconuts, unsuccessfully dodged a flying cow and traipsed through the Middle Ages (and a very expensive forest) with King Arthur as "Patsy" in Arrow Rock Lyceum's summer 2014 production of SPAMALOT!
Brian is especially proud of this role as he finally got his tapping feet and umbrella flips in sync for one of Monty Python's most iconic numbers, "Always Look on the Bright Side of Life!" This song really is Brian's credo and he is eternally grateful to Monty Python for putting his feelings so beautifully into song!
To see Brian in full tappin' fool-fashion, head over to the Sights page or check out the SPAMALOT playlist on YouTube!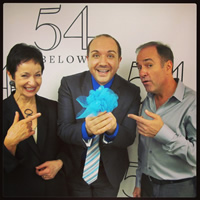 Before heading to Arrow Rock's Lyceum Theatre this summer to play an "experimental botanist" in LITTLE SHOP and a "patsy" to King Arthur (literally) in SPAMALOT, Brian was thrilled to reunite with friends Lynn Ahrens and Stephen Flaherty for their "Nice Fighting You: CD Release Celebration" at 54 Below on May 12th for 2 amazing concerts celebrating their 30 plus years of collaboration!
Brian happily represented the Jungle of Nool (singing "Alone in the Universe" with NEWSIES/MARY POPPINS alum Lewis Grosso) in a wonderful line-up that also included Liz Callaway, Stephanie J. Block, Mary Testa, Andy Karl, Margo Seibert, Bobby Steggert, Kecia Lewis and Quentin Earl Darrington.
Check out the video clip of "Alone in the Universe" from this incredible evening on YouTube or along with other cabaret performances on the Sights page.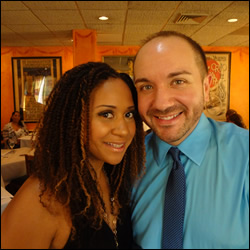 In May, Brian returned to his alma mater, the Baltimore School for the Arts, to reunite with Tracie Thoms for the second annual Alumni Concert.
This time around, Brian duetted with Becky Schnydman Mossing to explore the possibilities of "What Could Be Better?" from BABY and led the ensemble in "All Good Gifts" from GODSPELL. Many people mentioned the highlight of the evening, however, to have been Brian's performance of "Fight the Dragons" from BIG FISH.
To perform a song about telling stories and carrying the torch until you can pass it on to the next generation in that setting was incredibly moving and his mentors were so complimentary of his storytelling through song.
The song took on a whole new meaning the next night, however, when Brian performed it in Pittsburgh for the cast of SWEENEY TODD at Woodland Hills High School for the students he's been an acting coach to for the past 5 years before they took to the stage and blew him away with their performance!
Enjoy the videos in the Cabaret Performances section of the Sights page and imagine how one song took on 2 very different meanings when being sung to his mentors one night and then to those that look up to him as a mentor the next.

When we last checked in, the Cuba Gooding, Jr film Brian worked on was called "Carry Me Home." Before that, it was titled "Something Whispered." Heritage Films has picked it up and it's now going by a new title, "Freedom." No release date has been set but a few trailers have popped up!
We'll keep ya posted!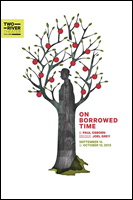 In 1941, a 9 year old Joel David Katz made his stage debut as "Pud" in Paul Osborn's 1938 fantasy comedy-drama On Borrowed Time at the Cleveland Playhouse. Not familiar with Joel David Katz? No….you know him better as Joel Grey, the legendary, Tony and Oscar-winning actor who "gave his regards to Broadway" and "Wilkommen"-ed us all into a seedy little cabaret in Germany.
Brian has returned from Two River Theater Company, having played "Mr. Grimes," the director of the State Insane Asylum, in a new production of On Borrowed Time, under the direction of Mr. Grey, meticulously costumed by Ann Hould-Ward and bathed in the ethereal lighting of Jennifer Tipton.
The New York Times observed that On Borrowed Time "thoughtfully contemplates the necessity of death while providing a tender portrait of an old man's abiding love for his grandson." "Gramps," warmly played by Robert Hogan traps Death, in the incarnation of Tom Nelis' "Mr. Brink," in the family's apple tree so he has a little more time with his dear grandson, this time "Pud" was played by Oakes Fegley.
A wonderful experience, a charming play and a beautiful theater. Who could ask for more?

You know those days when get to check something off of your bucket list that you never really knew was on the list?
That was the case as Brian was called in to record three songs from the James Lavino score for Cuba Gooding Jr's next film, tentatively called "Carry Me Home."
Set in 1850, Peter Cousens directs the Tim Chey script in which a man named Samuel (Gooding), attempts to free his family from the brutality of institutionalized slavery. He is intent on escaping from the tobacco plantation they have been forced to call their home for two generations. Heading north towards Canada, via that network of secret routes and safe houses used by slaves in 19th century USA (aka the Underground Railroad), they are tracked by a group of ruthless hired slave hunters, who constantly threaten Samuel and his family's survival.
A day in studio, 3 songs for the film's soundtrack and a lot of "pick up" lines throughout the movie? Pretty cool!
Perk up yours ears when it hits the big screen!

Fall of 2012 brought about a huge transformation for our hero: Brian lost over 75 pounds as a result of boredom! True story!

Between fantastic runs of LEGALLY BLONDE at North Carolina Theatre and ANNIE at the Paramount in Chicago, Brian happened to get on the hotel treadmill out of morning, pre-rehearsal boredom. That turned into drinking more water than at first believed possible and craving spinach, kale and Brussels sprouts! He jokes that his new goal in life is to be the "Jared" of Subway for Trader Joes, as he basically eats nothing but their products! (Although, if he wants a slice of pizza or a Schmackary's cookie….he's gonna eat a slice of pizza or a Schmackary's cookie! No amount of Brussels can replace those!)

The physical transformation has resulted in Brian no longer being a "sight gag" (a la popping out of a trailer with his belly hanging out as "Dewey" in LEGALLY BLONDE). He's still the warm-hearted, marshmallow-y "Horton" inside but he's now in a different theatrical "type." He never felt that more than when, in one week of performing in a concert, a table read of a new musical and singing for students…he looked up after each song to see tears flowing.

Let's take a moment to mourn the 5 or 6 roles that might not come as easily to him now ("Barfee," "Horton," etc…)...done? Great! Now, let's celebrate the world of possibilities and roles this lifestyle change can bring!

Be on the lookout for Brian 2.0!

Brian was invited back to his alma mater, the Baltimore School for the Arts, for the first (and hopefully annual!) Alumni Cabaret, hosted by dear friend and ensemble-mate, Tracie Thoms (RENT film, "Cold Case," etc)!

Brian, Tracie and Devron Young gathered to celebrate a milestone graduation reunion and, along with one of Brian's longest friends and BSFA Alumni Coordinator, Becky Schnydman Mossing, performed the opening of Jason Robert Brown's SONGS FOR A NEW WORLD. Brian and Becky later teamed up for "Fine" from ORDINARY DAYS and Brian, Tracie and Devron brought the house down with "Who I'd Be" from SHREK.
The evening of great friends and wonderful music was capped off with discussions of Brian putting together his own one-man cabaret to bring back to Baltimore in the Fall…perhaps with some very special guest stars: current students at the school!!

In other news, BSFA is the second arts high school in the country after "Fame" and was just named Newsweek's best school in Baltimore City, 10th in Maryland and in the top quarter of the 2,000 schools selected as the most competitive in the country! None of this should come as a surprise, however, as Brian has always considered the School for the Arts a truly magical place where art is expressed, talent is nurtured and dreams are encouraged.

Check out the video clip of "Who I'd Be" from the concert on YouTube or along with other cabaret performances on the Sights page.

In one week, Brian revisited a fantastic forest and a fictitious fairyland. Interestingly enough, both featured guys with an affinity for green tights!
Brian was asked back for the latest workshop round of Martin Charnin, Thomas Meehan and Peter Sipos' ROBIN HOOD: THE FINAL ADVENTURE.
Coming back to the piece after almost two years, the musical tells the tale of Robin Hood (Anthony Warlow), long thought to have been killed in the final battle of the Crusades, returns to England to once again take up arms against the brutal tyranny of the brainless King John. There he reunites with his beloved Maid Marian (Shelly Burch), who has, to say the least, a major surprise for him (Christy Carlson Romano), as they set off together on his last and greatest adventure!
Out of the forest and off to the second star to right, Brian went back to Neverland as "Tootles" in the latest reading of THE LOST GIRL by Arianna Rose and Ben Bonnema. You truly feel the magic of the Peter Pan story from the moment the show begins in this "what happened after" story where our darling Darlings who, though they left Neverland long ago, are each suddenly faced with actually growing up.
Brian's "senior year" at Woodland Hills High School outside of Pittsburgh found him stepping into the lab to assistant direct YOUNG FRANKENSTEIN.

The director, Thomas G. Crone, always says that the school does not put on high school musicals They put Broadway musicals on a high school stage. This year was a prime example of that statement!

What started as "dog-boy"-ing ANNIE four years ago has turned into a wonderful relationship with this award-winning school, "show doctoring" ANNIE, THE PHANTOM OF THE OPERA, CURTAINS and now YOUNG FRANKENSTEIN.

Working with the students is always such a "shot in the arm" for Brian. These kids aren't doing the show because they need to pay their rent or their agent or to build a resume or acquire health insurance weeks: they are doing plays because they want to play! Simple as that...and what a refreshing idea!
Each year and show since he's been involved with the school has brought a new set of challenges. This year, however, he was especially blown away by how the high schoolers handled the very mature (and completely uncut!) world of Mel Brooks' zany Transylvania! Congrats to all involved!
This just in: Brian's been informed that he is being "held back" a few years and will not be graduating from Woodland Hills this year….guess this means he'll be back for many years to come…and happily so!

Third time's a charm, right? Brian's third BLONDE of the year found Harvard in Raleigh, NC at the North Carolina Theatre.

Denis Jones and Carolee Baxter assembled a stellar cast led by Autumn Hurlbert (LEGALLY BLONDE, MTV's The Search for Elle Woods) and Kathy Fitzgerald (WICKED, 9 TO 5, Smash, Downton Abbey: the Musical!!!!). He was thrilled to reprise "Dewey," "Dad" and "Winthrop" a little closer to his parents (who live in Greensboro, NC) as it meant the family could come see him in the show and Brian was able to catch up with his nephew, Zackary, on the off-days!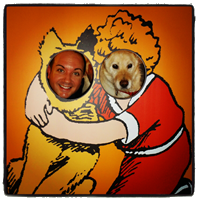 Brian was "Never Fully Dressed" and all "Bundle"d up in Rachel Rockwell's acclaimed production of ANNIE at the beautiful Paramount Theatre just outside of Chicago.
With Jim Corti at the helm, the Paramount was an amazing experience top to bottom! The show was fantastic and Chris Jones of the Chicago Tribune had some very nice things to say about this production (especially after just having seen the newest Broadway revival). And being reunited with his Marriott LEGALLY BLONDE's "Paulette" and "Callahan," Christine Sherrill and Gene Weygandt (respectively as "Hannigan" and "Warbucks") made this ANNIE feel like a homecoming!
So many times, people have asked Brian if the dog playing "Sandy" is up for adoption. He jokes that the canine co-star "has a contract to fulfill" but that there are thousands of dogs in shelters across America in need good homes. All of William Berloni Theatrical Animals' are rescues. In fact, it's the true ANNIE story: the pups go from "orphange" to "mansion" whether they are adopted, either by Bill Berloni or by you!
As an extension of that, the best part of this ANNIE was the Paramount's excitement to participate in Brian's "Adopt-a-Pup" program.
Brian reached out to three shelters in the area and invited them to bring homeless dogs to the show every night for a walk-on role in the performance. The dog was available in the lobby before the show and at intermission for the audience members to meet the special guest star and hopefully fall in love with the little four-legged friend…maybe even putting in an application to get their own "new deal for Christmas!"
Oh…and yet another added bonus of working at the Paramount? Classic Movie Mondays!!! Every Monday night, classic movies are shown on the big screen in this beautiful theatre! Brian's first Monday in town….? HOOK!!!! Yes, please!

| | |
| --- | --- |
| Last season's 'infamous' "Cupid" from XANADU and "Bert Healy" in the same seasons' ANNIE, returns to Brunswick for his second summer! And not only does Brian return to Brunswick but also to Harvard Law, while reuniting with his WIZARD OF OZ (Carousel), ANNIE/XANADU (MSMT) and LEGALLY BLONDE (Marriott Lincolnshire) director, Marc Robin, for LEGALLY BLONDE and SUNSET BOULEVARD. | |
You could almost say that Brian's characters are the true driving force of LEGALLY BLONDE: he pays Elle's tuition to Harvard as "Elle's Dad," admits her to Harvard as "Winthrop" and helps her realize that she really can "do law" as she helps Paulette get her dog Rufus back from her trailer trash ex-boyfriend "Dewey!"

From Harvard Law to the studio backlot, Brian takes his first trip down SUNSET BOULEVARD as Paramount Pictures producer, "Sheldrake."

"Road trip, road trip" your way over to the Sights and Reviews pages for…well…sights and reviews!


A few days after Brian got back to NYC from the Marriott's production of LEGALLY BLONDE, he thought happy thoughts and flew to Neverland via NYU's Graduate Musical Theatre Program.

Arianna Rose and Ben Bonnema have written a beautiful musical called THE LOST GIRL that fills in the space between 2 very crucial moments in the original "Peter Pan" story.
Wendy, Michael and John Darling return to the nursery from their wonderful adventures in Neverland with Peter promising to come back for them again soon. Flash forward to Peter opening the nursery window to find that, while it has only been a few weeks for him, years have gone by in London and Wendy has grown up. She now has a daughter, Jane, and is too old to go back to he place where dreams are born. What happened in that time, though? How did the Darling children adjust to "real life" after flying to the second star to the right, fighting pirates and swimming with mermaids?
Brian played the grown-up lost boy "Tootles" (of "lost-marble" fame) in this reading featuring Cristin Hubbard as "Wendy," Colin Hanlon as "Michael," Daniel Robert Sullivan as "John" and directed by West Hyler.
Fly to the New Musicals tab of Sounds page to hear Brian's demo of "Rangoon," where we learn that Tootles has loved the Wendy lady since the day he shot her.

From the Warbucks Mansion with a red head and a big dog to the hallowed halls of Harvard Law with a blonde and a little dog!

3 days after closing ANNIE at Pioneer in Salt Lake, Brian started rehearsals for LEGALLY BLONDE at the Marriott Lincolnshire outside of Chicago!
This was Brian's first time revisiting the show since the Broadway run and his first time IN the show, doing double duty as "dog-boy" as well as playing "Elle's Dad," Paulette's deadbeat trailer trash ex-boyfriend "Dewey," Head of Harvard Admissions "Winthrop" and the "TV Reporter" for the Brooke Wyndham murder trial.

Reunited with Chico, his original Broadway "Bruiser" and Nellie in the role of "Rufus," this unlikely trio called Chicago home from the end of December to the beginning of April where they made wonderful new friends while reconnecting with director Marc Robin (who put Brian in slightly more clothing than he wore as "Cupid" in Maine State's XANADU) and with whom he'll do the show with again at Maine State Music Theatre, summer 2012.

Bend and snap over to the Sights page for some great pix and the B-roll from this great production featuring Chelsea Packard as "Elle Woods," David Larsen as "Emmett" and Christine Sherrill as "Paulette."

What's the holiday season for Brian without a trip down "Easy Street?" This time, the Warbucks Mansion was at Pioneer Theatre Company in Salt Lake City, Utah.

Reprising the role of "Bert Healy" in ANNIE, directed by Paul Mason Barnes and choreographed by Patti D'Beck, Brian got to spend some time in this beautiful city living next door to his dear friend Gina Milo (perfectly cast in the role of "Lily St. Regis!"), snow-tubing through the mountains and recording a BOOK OF MORMON submission video IN FRONT OF THE MORMON TEMPLE. What could be better?

In addition to the show being a wonderful holiday hit, Brian initiated a new partnership between Pioneer and the Humane Society of Utah through which, in true "life imitates art" fashion, pups from the local shelter were given walk-on roles in each performance in the hopes of getting our canine co-stars their very own "new deal for Christmas!"

Fall 2011 found Brian "somewhere over the rainbow!"
Stepping across the footlights, Tony Award winner Bill Berloni and the delightful Lara Teeter invited Brian to be a part of the Variety Children's Theatre of St. Louis' production of THE WIZARD OF OZ.
Variety is an organization that has been helping children with physical and mental disabilities to reach their full potential for over 80 years. 17 Variety children were part of the cast, with disabilities ranging from spina bifida and cerebral palsy to muscular dystrophy and Down's syndrome. In addition to the onstage talent, local children with disabilities "shadowed" the production's director, musical director, choreographer, stage manager, sound technician and costume designer!
Seeing these kids dance down the yellow brick road, some on crutches or in wheelchairs, or a wheelchair-bound young lady soar above Dorothy and friends as a "Flying Monkey" was that shot the arm artists sometimes need of "oh…this is why we do this!"

It's not often that Brian is the just "dog-boy" and not a cast member of the shows he works on, but this production, like Oz itself, was an amazing, life-changing experience and one that he was proud to be a part of in any capacity. To say that home, heart, courage and wisdom abound at Variety is an understatement.

Click here to learn about this wonderful organization!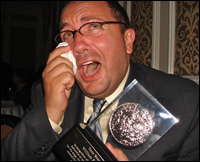 What would ANNIE be without "Sandy?" Can you imagine a trip to OZ without "Toto?" Would Elle Woods dream of not taking "Bruiser" with her to Harvard?
Beginning in 1976, when Bill trained the original "Sandy" for a then unknown musical about a little red-headed orphan, William Berloni Theatrical Animals has provided animals trained to meet the demands of live performances – from Broadway to ballet – as well as film, television and commercial work. His pioneering humane training techniques have won multiple awards, and on Tony night 2011, Bill's years of dedication was recognized by his friends and peers, the theatrical community, as he received a special Tony for Excellence in the Theatre...and guess who got to go with him?
Beyond grateful to have worked with Bill since 1999, Brian was humbled when he was asked to attend the Tony Awards Banquet, rubbing elbows with Angela Lansbury and Neil Patrick Harris, as well as the Tony's Ceremony at the Beacon Theatre. It was an amazing night and one that Brian will not soon forget!
To learn more about Bill, check out www.theatricalanimals.com

Brian celebrated his 1,800th performance of ANNIE (yes...you read that correctly: 1,800th!!!) as "Bert Healy" in Maine State Music Theatre's 2011 production.

This long-overdue reunion with his WIZARD OF OZ director, Marc Robin, found Brian behind the mic at WEAF Studios' "Hour of Smiles" Radio Show....but also, in a (literal) moment of need, he stepped back into his familiar roles of "Bundles" and "Harold Ickes"....sans rehearsal! Guess some things just stick after 1,800!

Check out the B-roll from this fantastic production where "Missus Healy's boy, Bert" pops up around the 1:40 mark!

Leaving the Mansion and most of his clothes behind, Brian next ventured to "the place that nobody dared to go:" XANADU!

Everyone at Maine State called the cast of XANADU "a party that all of your favorite people were invited to" yet to say that Brian was apprehensive of Marc Robin's idea of using him in this dance-heavy show would be the understatement of the century!

The genius of Marc, however, is that he used the people in the cast to their strengths and specialities to create this new production from the ground up! We have an amazing tap dancer? Great! 3 minute tap solo on a desk for Buddy Reeder! Beautiful ballerina Katie Hagen Huddleston is in the cast? Ballet dance double for "Kira" in Act 2...no brainer!

...and then you have Brian.

When Charis Leos' "Melpomene" and Erin Maguire's "Calliope" decide to place a curse of their sister muse, Jenny Lee Stern's "Kira," that she fall in love with Brandon Andrus' mortal "Sonny" they call on Marc and Brian's new creation: "Cupid."

When on Mount Olympus, "Cupid" was a flitting, toga-toting angel....but Earth-bound, he's a Pabst Blue Ribbon-drinking, bubble gum-chewing cherub who is beyond bitter that he is bound by the will of the Muses to cast love spells and so he does so while performing purposefully awful (yet critically acclaimed!) ballet, subbing a lyre for an air-guitar and begrudgingly chucking love arrows....oh....and all while wearing silver work boots, beautiful white wings, silver-painted nipples and....wait for it: a diaper. Yup. A diaper. The end.

Realizing that he did not look like anyone else in XANADU's glamazon cast, Brian was terrified of "Cupid." However, and as if often the case, the thing that scares you the most, often becomes the most freeing, exhilarating and rewarding experience. That's what "Cupid" became for Brian: a beautiful gift of self-acceptance and love.

"Strange Magic," indeed!

Check out the Sights and Reviews pages for...well, sights and reviews from Maine State's New England premiere of XANADU!

Someone finally realized that Brian really is a 12-year old and that he should be shipped off to Shreveport, Louisiana to try his hand…or "magic foot," rather at spelling!

Spring 2011 found Brian finally playing the mucus membrane disorder plagued "William Barfee" in River City Repertory Theatre's production of THE 25th ANNUAL PUTNAM COUNTY SPELLING BEE.

Surrounded by an amazing cast, he channeled his (not-so-inner) nerd and called on as many "Star Wars" and "Toy Story" references as humanly possible!

Looking back, "Barfee" really was a warm-up for XANADU's "Cupid" as his amazing choreographer made sure Brian threw every dance style from tap and jazz to the "moonwalk" and the obligatory "truffle shuffle" into his show-stopping "Magic Foot" routine. Oh…and the "dream ballet" in the final spelling show-down between "Barf" and "Olive" may have paid homage to some of Kenny Ortega's finest work from "Dirty Dancing!

A fan at the stage door one night said "Wow…for a big guy…(he's) got some moves!" Back-handed as it may seem, Brian happily took it as a great compliment!

Check out the Sights page for some great pix and a few videos from this anything but lugubrious production!

No need to be "Alone in the Universe" anymore! The cast recording of Brian's pachydermical performance as "Horton the Elephant" in the acclaimed 2007 Off-Broadway Revival of Ahrens & Flaherty's SEUSSICAL has finally been released by JAY Records! Listen to "Alone in the Universe" here and look for the cd in stores and on iTunes.

To celebrate the cd's release, the NYC Lincoln Square Barnes & Noble hosted a concert on September 30th, 2010 reuniting Brian and the original cast and hosted and emceed by the show's director Marcia Milgrom-Dodge and the composer and lyricist, Stephen Flaherty and Lynn Ahrens!

For a quick trip to the Jungle of Nool, check out "Alone in the Universe" performed by Brian and his JoJo (Michael Wartella) and "Solla Sollew" featuring Brian, the cast and our special guest accompanist Stephen Flaherty on the Sights page!

Brian being back in the Warbucks Mansion is nothing new but there's a fantastic new addition to the Orphanage this time around!

Andrea McArdle, Broadway's original "Annie," has returned to play "Miss Hannigan" in the North Carolina Theatre's Summer 2010 production of the hit musical, directed by the incredible Casey Hushion!!

Doing double duty, playing "Bundles" (without whom the whole show would not happen…SOMEONE has to sneak Annie out of the Orphanage, right?), "Harold Ickes" (FDR's vocally challenged Secretary of the Interior) and the curmudgeonly "Sound Effects Man" as well as working with Mikey ("Sandy") as the show's "dog-boy" has been an incredibly surreal experience: this is the same track that Martin Charnin cast Brian in for the 1999-2000 national tour…and then to be marking his 1,700th performance in ANNIE with Andrea McArdle…well, let's just talk about "coming full circle!"

Check out the Sights page for some pix and video clips and read more on Playbill.com.

Brian, Andrea and Mikey went on to reprise their roles alongside Bets Malone and Michael Paternostro in Long Beach, California's Musical Theatre West production in the Fall of 2010, directed by Steven Gauldini.

Brian recently spent a few weeks with an eccentric inventor, a "Truly Scrumptious" leading lady, some delightful children, a few "shpies," Mikey (breaking out of his normal "Sandy" track and adding "Edison" to his resume!) and…oh, yeah…a FLYING CAR!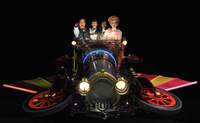 That's right: CHITTY-CHITTY-BANG-BANG, at the Lyric Theatre of Oklahoma City, was a "fantasmagorical" show, directed by Ray Roderick and choreographed by JoAnn Hunter. Playing one of Baron Bomburst's ridiculously ancient inventors (with incontinence problems), Brian truly tapped into his inner "Doc Brown." (Visit the Sights page for our "Chitty-Chitty-Bang to the Future" movie posters!)
Despite the fact that he watched Chitty fly every night offstage, he still giggled like a schoolboy at this true moment of "theatre magic!"
See Brian's "fine four-fendered friend" take flight on the Sights page!

No stranger to "Easy Street," Brian will proudly add The MUNY in St Louis to his resume with their summer 2009 production of "Annie" while being reunited with friends Conrad John Schuck (Oliver Warbucks) and Beth Leavel (Miss Hannigan). Directed by Daniel Goldstein, he'll be reprising the role "Annie" creator Martin Charnin originally cast him in for the National Tour: "Harold Ickes" in FDR's Cabinet scene.

In other exciting news, Mikey will also be making his MUNY debut! Mikey was the "under-dog" on the 30th Annie-versary National Tour with Brian from 2005-2007. Well, he's graduated into the role! Get ready, St Louis...there's a new "Sandy" in town!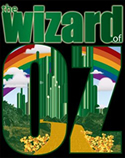 Brian's off to see the Wizard as "The Cowardly Lion" in Carousel Dinner Theatre's brand-new production of THE WIZARD OF OZ, directed and choreographed by Marc Robin!
This production perfectly marries what everyone wants to see when you see OZ onstage: a sepia-toned Kansas, ruby slippers and a certain water-phobic witch, as well some wonderful new magic making it a brand new theatrical experience!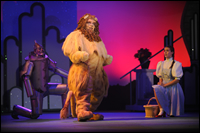 Literally framed by a beautiful story-board proscenium of Dorothy's adventures, amazing dancers brought the Scarecrow's crows, the Tin Man's trees and the deadly poppies to life while a larger than life Gatekeeper puppet welcomed the four friends in to the Emerald City which was, as in the original L. Frank Baum OZ book, "no more green than any other city" (in our case: white)....only becoming emerald when the four friends and the ENTIRE AUDIENCE put on green glasses!
"Shucks, folks...I'm speechless" to share the stage with Kelsey Crouch-Pinter ("Dorothy"), Ben Franklin ("Scarecrow") and Chad Coudriet ("Tin Man") and an amazing cast, including several local children as Munchkins, Ozians and Flying Monkeys!
Follow the yellow brick road to the Sights page to see Brian as the "King of the Forrrreeeeeest" and be sure to check out the great reviews to read what the critics had to say about our favorite furry friend!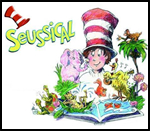 After a critically acclaimed, sold-out Off-Broadway run of Seussical last summer, Brian was asked by Lynn Ahrens and Stephen Flaherty to return to the "Jungle of Nool" for the show's Revival Cast Recording with JAY Records!
Directed by Marcia Milgrom-Dodge, the production was nominated for "Best Revival" by both the Lucille Lortel and Drama League Awards and the 75-minute disc will present the entire new version of the show with new continuity material, lyrics and scenes not heard on the original Broadway cast recording.
To say that Seussical is a gift that keeps on giving would truly be an understatement. Brian's "Horton" should be in stores and iPod-ready for the 2008 holiday season!
Read more on Playbill.com!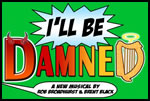 I'll be Damned is an incredible new musical about Louis Foster, a friendless new "high school home-school" grad and comic book geek who sells his soul to the Devil in exchange for one true friend.
(P.S. Brian typed that last paragraph while flipping thru the most recent Batman comic. Typecast? Perhaps.)
Brian starred as "Louis" in three NY workshops and a NAMT presentation of I'll Be Damned, written by recent NYU Graduate Musical Theatre Writing Program grads Rob Broadhurst and Brent Black, directed by Benjamin Klein with musical direction by Matt Castle and featuring Lisa Howard, Anika Larsen, Kurt Robbins and John Jellison.
Check out some of the I'll Be Damned demo on the Sounds page!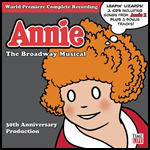 To commemorate 2 years on the road with the 30th Anniversary National Tour of Annie (which included a sold-out Christmas engagement at Madison Square Garden), Brian can be heard on both discs of the newly released Annie: The 30th Anniversary Cast Recording from Time-Life Records!
Disc Two is narrated by Carol Burnett's "Miss Hannigan" telling the story of Annie II: Miss Hannigan's Revenge and includes songs from this version of the infamous sequel that never made it into what eventually became Annie Warbucks. This all-star recording features performances from the original "Annie," Andrea McArdle, as well as Conrad John Schuck, Harve Presenell, Gary Beach, Shelly Burch, Kathie Lee Gifford, Sally Struthers and the shows lyricist and original director, Martin Charnin.
Aside from all ensemble numbers, Brian is featured in a quartet on "It's Christmas" (a song from the 1977 Annie TV Special) featuring past "Annies" (Andrea McArdle, Marissa O'Donnell and Kathryn Zaremba) and past "Hannigans" (Carol Burnett, Alene Robertson, Sally Struthers, and Kathie Lee Gifford). Leapin' Lizards!
Read more on Playbill.com!